There is both science and art in that perfect elevator pitch.
"The purpose of an elevator pitch is to describe a situation or solution so compelling that the person you're with wants to hear more even after the elevator ride is over."
– Seth Godin
A one-and-a-half minute crisp speech to interest a potential investor or collaborator in your idea, the elevator pitch is one of the most commonly used corporate concepts, but also one that is easy to get wrong! It is a lot like the game of Shipwreck, where you must convince the captain to give you a life jacket.
So here are ten quick tips you should keep in mind while structuring an effective elevator pitch:
1. Dress Rehearsal
Know what you're talking about thoroughly. Be sure to rehearse your pitch, breaking it down in terms of the three-act structure – the Setup, the Confrontation and the Resolution. At Sideways, we call this the 3 Cs – Context, Conflict and Conclusion.
2. Time Call
Time your pitch carefully because there will always be too much to say and too little time! Don't waste your time on pleasantries. Give yourself a shout-out every 30 seconds.
3. The Plot
Come up with a 2 or 3 line effective summary of your pitch – you never know when you may have to cut short your carefully prepared long version.
4. Feel the Audience in the Auditorium
Try to understand the person you are talking to. Feel out your audience and shape your pitch accordingly. Getting a quick sense of the kind of person you are talking to will help you connect with them better.
5. Suspense…Drama…Intrigue…
Don't load your pitch with too much data that is hard to process in the short time you have. Drop a point of intrigue; something to grasp the attention of the listener that ties nicely with your concept.
6. Plenty of cues
Be to-the-point when you are speaking and drop entry points wherever possible for the listener to join in the conversation. A conversation works better than a monologue! "Do you agree with this?" or "What are your thoughts on this?" usually work well.
7. Don't Lead the Audience
Never, at any point of your pitch, assume that your listener knows the subject you are talking about. Don't ask questions like "Have you watched this?" or "I'm sure you must have heard about this".
8. Keep Your Dialogue Short
Don't advance your pitch forward so much that the original idea is lost, and at the same time, don't expand it with too many details either. Be succinct in what you say such that the overall impression conveyed is one of being neat and crisp.
9. Don't Ad Lib
Think like a business leader from now! Be prepared to defend your ideas and answer any questions about them. An elevator pitch is a mini-performance – own it.
10. A Chance for an Encore
Most important of all, leave your listener with a strong call to action. Give them your business card or get theirs to follow up.
Break a leg!
Recently, our trainer Ashank Bhandari was at Viacom18 to help creative trainees from different verticals master the art of delivering effective elevator pitches! A peek at how that went: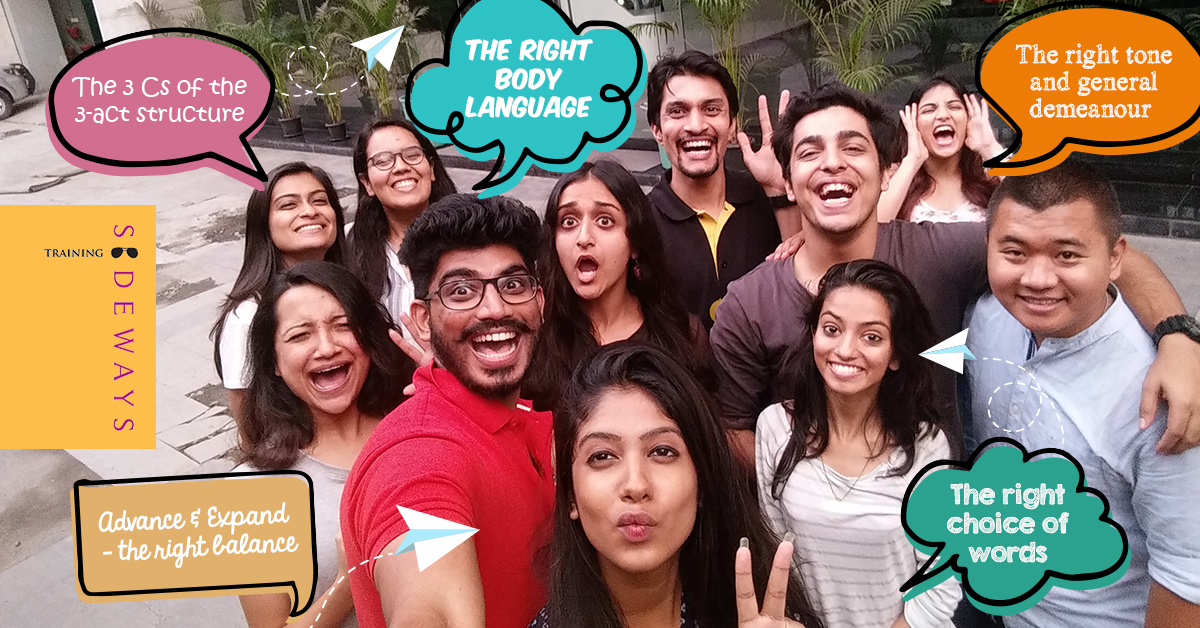 Want to know more? Get in touch with us!