Shhh… Let's Not Talk About It!
The Sideways team is a passionate group of individuals who believe in the power of Arts and its amazing influence on behavioural training.
This blog is by Sunil Vishnu K, the director and co-founder of Training Sideways.
A New Training Technique – Shh .. Let's not talk about it!!
That, by the way is the name of an interactive theatre performance on 'diversity and inclusion' that we at evam and sideways have been performing at corporates across India since Feb 2016. 'Let's not talk about it' , playshop (play + workshop as we liked to call it ) was created in Dec 2015, launched for a corporate in Jan 2016 and immediately started getting booked for performances. We have already done 10 shows of this playshop at various corporates including fmcg, telecom, services, manufacturing (including Microsoft, Airtel, Vodafone, GSK, Fresh Desk,Kelloggs), done in places like auditoriums, gardens and canteens, performed in small, medium large enterprises, staged for 30 to 300 people and we are getting booked out for the whole year.
See video of play HERE: https://www.youtube.com/watch?v=08hQ0P4RQGg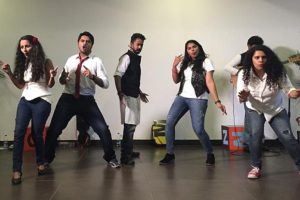 This, as I see it, is only the tip of the iceberg.
We are overwhelmed, to be honest, which made us think – what's so special about this play? In the training world, where we constantly look at finding the gap in the learning cycle and fill it with a training solution – what is this playshop doing which is so different..
We dug deeper and I think answer is three-fold, one lay in the context, the second in challenge and the third in our unique solution.
The Context
20 years back , if someone spoke of diversity, it would be in our school text-book ' India :Unity in Diversity' which meant the pledge that 'India is my country and all Indians are my brothers and sisters'. 10 years back this became 'Gender Diversity' which meant corporate HR would be struggling to increase the ratio of women:men in their workplace , and today increasingly, the conversation is about 'Inclusion in Diversity' which means celebrating diversity in all forms (primarily gender, age and intellect followed by caste, religion, colour, etc.), making people aware of their rights and responsibilities in context of POSH (prevention of sexual harassment at work) and seeking an inclusive respectful working environment. In fact, the government of India has made it mandatory to have POSH committees in all corporates.
Quite a handful – no wonder, now companies have a special 'diversity wing' in their HR/OD/L&D departments and hence the importance of sensitizing people about 'respectful work environment' and hence the need for a training/intervention/workshop/ or magic wand!
The Challenge
The challenges are manifold. From how to hire more diverse people to How to make them productive to How to make them feel inclusive, but even if you chose to focus on the challenge of 'How to sensitize people about their contribution towards an inclusive environment' that's quite a handful. And that's not an easy communication task since, the topic itself is heavy, serious and boring. Also, the topic seems more like an agenda of the corporate HR and not related to 'my personal career growth'. Add to that the unconscious bias in our mind about diversity, other genders, stereotypes, half-baked knowledge about POSH etc.
In this context the same corporates tried out the usual methods of communication – an official emailer, posters, flyers, women's day week videos, celebrity women speakers and some other companies who have been there in the 'diversity journey' longer, chose to get into 'peer to peer learning sessions', 'sensitisation workshops', videos and seminars. These methods over the years have had their share of success and failure and taken the 'inclusion agenda' ahead in India's corporate history. But one thing remains true; most of them were still seen by employees as 'agenda of HR' and used one way 'passive communication'. 'What's in it for me? And why should I listen?' was still a question unanswered which is where the gap was.
The Solution
Let's not talk about it – the play shop chose to acknowledge this gap and address it. Designed as an engaging interactive live show which aims to sensitize people on 'diversity and inclusion', this play-shop breaks all taboos and gets the conversation going. The play is just not a play but an experience and this is why it is turning out to be a game changer.
What are the corporates saying? See VIDEO here
https://drive.google.com/a/freshdesk.com/file/d/0BzPTm_Ar0ndHNGJDcmx3Vkp5bmM/view?usp=sharing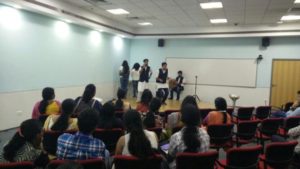 The content is 6 short plays of 7 minutes each – picking up stories which are real from the lives of the corporate and keeping it honest. Also, the duration of the plays is keeping in mind that people don't have time to engage with long story format. At the end of the day, it's a show with relatable stories – high on RELATIBILITY
The tone of the show is 'peer to peer' as if it's a conversation between friends. The plays themselves are about serious topics like POSH, gender diversity, inclusion but use the framework of humour and entertainment. It has live actors, customised stories and live music – High on ENTERTAINMENT
The content is done through small plays, narrator interactions with audience and finally a forum theatre where the audience interacts and creates a scene. The audience is an active participant in this show. High on INTERACTIVE
It's a new experience for the audience. It's a play + training without being preachy. The setup is in your own office, the seating is on mattress on the ground, the conversation is through entertainment and finally the audience participates. Also it's a community experience where people from all departments, genders, designations come together n experience this together. In the world of Facebook and what's app where you decide what you want, the audience is truly the focus of this show, they engage and they learn which makes the experience. High on ENGAGEMENT and COMMUNITY LEARNING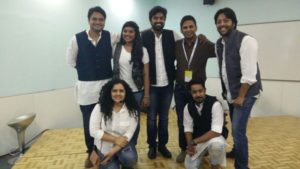 So, what next?
The increasing diversity in workforce participation in India brings its own unique challenges   and as corporates try to tackle it, we need to keep in mind the audience which is experiencing the world in a very different way than even 10 years back. Let's not talk about it, as we are discovering is not an aberration or an exception. It goes back to the basic principles of communication – effective communication is sender sending a message through a medium to the receiver such that the receiver acts on it as intended by the sender. And when the message is so important and serious such as 'diversity and inclusion' why not use storytelling and that too interactive story telling – a playshop!
As we start rehearsing for 'Let's not talk about it ' version 2 aimed at employees who work out of factories and warehouses ( and not plush corporate offices) – we will start from first principles and stay true to the reason we are doing it – adding value to each and every individual who interacts with us. That's the "what's in it for me "and for the employees as well.
And of course, the moral of this story is the relevance of playshopping as a training tool– let not… oops Let US talk about it. And let's DO more of it.